About OscarCam
---
You are here: Andrew Ho > Personal > OscarCam > About
Who's Oscar? What's this webcam about?
Oscar is a small gecko who lives in a terrarium at my office at Tellme Networks, Inc. Microsoft in Mountain View, California. I set up this webcam so I could check on Oscar at nights and on the weekends. If you're curious, you can read more about me or more about my work at Microsoft.
If you want to see more gecko pictures, there are also more photos of Oscar and our other day geckos on-line for your viewing pleasure.
Where's Oscar?
In nature, geckos occupy a spot right above insects on the food chain, so they're really good at hiding. Here are some of the likely spots you might find Oscar during the day:
Sometimes Oscar is very easy to find!
On the back wall, right side, looking downwards
Perched on a leaf, left foreground
Sitting on the bamboo, looking downwards
A nice view of Oscar on his piece of driftwood
Click on each thumbnail image to get a normal webcam-size view.
What kind of lizard is Oscar?
Oscar is a gold dust day gecko (scientific name Phelsuma laticauda laticauda). Unlike most geckos, day geckos are diurnal (active during the day), rather than nocturnal. Gold dust day geckos are small, bright green with yellow flecks and some red markings, and live in trees and tall plants in Madagascar and the surrounding islands.
There is a lot of information about day geckos on-line. If you want to learn more, I'd suggest starting with the Wikipedia entry on day geckos, and the Leaping Lizards website.
You have a terrarium at your office?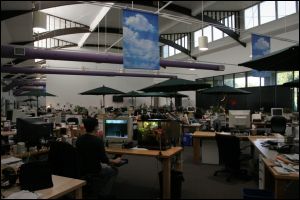 Yes. Except I mean "office" somewhat loosely, as Tellme has a trendy dot-com style open work environment. Our office is a large former warehouse, and our desks are made from wooden doors, which actually works out quite well. On the right is a picture of my office setup (click on the image to get a larger image).
The wooden rod right in front of the terrarium is where the actual camera is mounted. If you look closely at the image, you can see I'm looking at the OscarCam image!
Does Oscar do the robot?!
No. Oscar does not do the robot.
Also, you are the first person to ever ask me that question, you clever devil, you.
How does your webcam work?
OscarCam is powered by a Creative NX Ultra USB camera, connected to my desktop at work. The software that ships with the camera is pretty bad, and sucks up a lot of CPU, so I use an open-source webcam application, Dorgem, to take a picture every 15 minutes and save it to local disk. I run a local copy of Apache 2, and an SSH tunnel exposes that image from my desktop webserver to the webserver that you're reading this content from now.
To refresh the image, I wrote a short script which acts as a caching HTTP reverse proxy. The script just returns the cached image if the SSH tunnel or my work desktop are down, or if the image has been refreshed very recently; otherwise, it contacts my desktop and gets the newest image. If you're interested in using something like this for setting up a webcam of your own, e-mail me and I can send you a copy of the script.
Originally the image had a lot of glare, so I bought some polarized film from ScienceStuff.com and taped it to the webcam lens, which really helped the problem.
---